---
96-well cell culture plate
---
Disposable virus sampling tube | urine cup | centrifuge tube

Message
---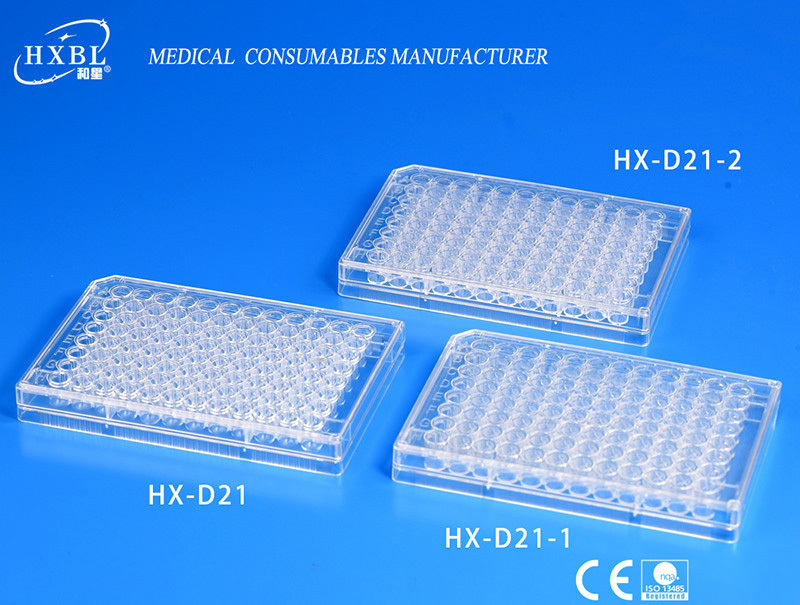 96-well cell culture plate
Features
Made of high-quality polystyrene materials, supplemented by ultra-precision molds and fully automated production processes, this product is used in laboratory cell culture,
Excellent optical properties facilitate microscopic observation.
5 kinds of hole specifications are optional: 6, 12, 24, 48, 96 holes. Available in clear, white and black.
The cell culture plate can be divided into flat bottom, U-shaped bottom and V-shaped bottom according to the shape of the bottom.
The plate cover is designed to cover in one direction and has a condensation ring to reduce pollution.
The cover is tightly combined, which is convenient for ventilation and prevents the contamination or loss of the medium.
The hole edge is elevated to prevent cross-contamination, and the coordinates of letters and numbers are positioned to facilitate experiments.
It can be stacked to save space and adjust the laboratory environment.
Compatibility is good and can be used with most devices.
EO sterilization or gamma sterilization.

Serial number
Specification
size
Medium dosage (ML)
Effective cultivation area
Packing
set/box

HX-D17

6 holes

127x85.5x23mm

2-3

9.6

individual package

200

HX-D18

12 holes

127x85x22.5mm

1-2

3.9

individual package

200

HX-D19

24 holes

126.7x84.4x22mm

0.4-1

2.0

individual package

200

HX-D20

48 holes

127x85x22.5mm

0.2-0.6

0.9

individual package

200

HX-D21

96 holes flat

128x85.3x16mm

0.1-0.2

0.34

individual package

200

HX-D21-1

96 holes U bottom

128x85.3x16mm

0.1-0.2

---

individual package

200

HX-D21-2

96 holes V bottom

128x85.3x16mm

0.1-0.2

---

individual package

200

Sterilization method
Ethylene oxide E.O. sterilization
Listen to the voice of every customer