---
Disposable virus sampling tube | urine cup | centrifuge tube

Message
---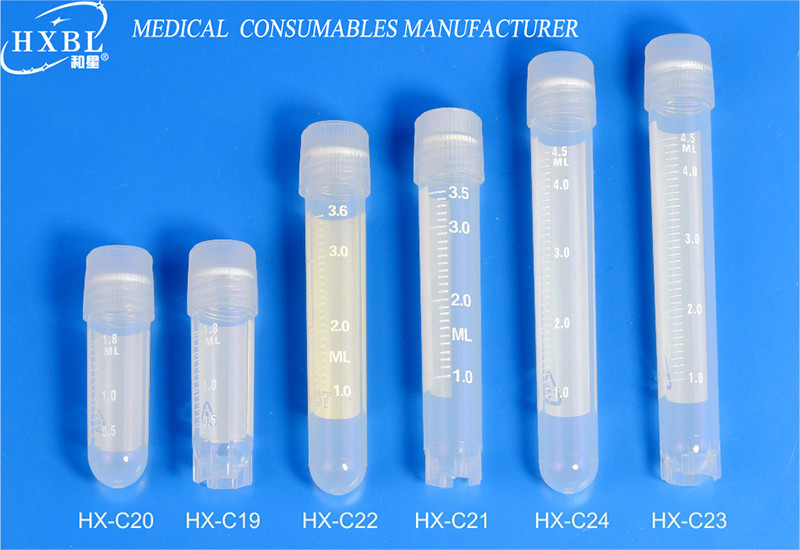 self-standing cryo tube
HXBL Cryotube is made of Medical grade PP material,It is the ideal lab consumable for biological sample storage.In the gas situation of liquid nitrogen,it can withstand temperature as low as-196C.Silicone gel O-ring in the cap ensures no leakage,even in the standard lowest storing temperature,which will guarantee the sample safety.Different inserted color top will help easy identifi-cation.White writing area and clear graduation make the mark and volume calibration more conve-nient.Maximum RCF:17000g.
O Cryotube with external screw cap is designed for freezing samples,The external screw cap designcan reduce the contamination probability during sample treatment.
O Cryotube with internal screw cap is for freezing samples in gas situation of liquid nitrogen.The
silicone gel o-ring can enhance the sealing performance of the tube.
O The caps and tubes are all made of PP material with same batch and mode.Thus same dilatationcoefficient can ensure the tube sealing performance under any temperature.Large white writing area allows easy marking.
O Transparent tube for easy observation.
O Round bottom design is good for pouring liquids out with little residual.
O Manufactured in cleaning workshop.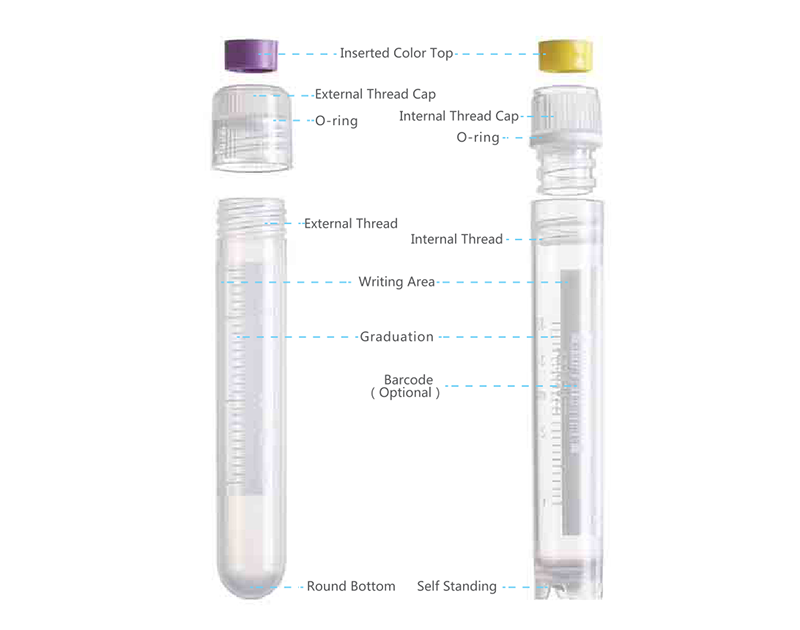 | | | | | |
| --- | --- | --- | --- | --- |
| Item no | Description | Resistant temperature | Qty/pk | Qty/cs |
| HX-C19 | 1.8ml self-standing cryo tube | -196℃ | 200 | 10000 |
| HX-C20 | 1.8ml cryo tube(round bottom) | -196℃ | 500 | 10000 |
| HX-C21 | 3.6ml self-standing cryo tube | -196℃ | 200 | 4000 |
| HX-C22 | 3.6ml cryo tube(round bottom) | -196℃ | 200 | 4000 |
| HX-C23 | 4.5ml self-standing cryo tube | -196℃ | 200 | 3200 |
| HX-C24 | 4.5ml cryo tube(round bottom) | -196℃ | 200 | 3200 |
Listen to the voice of every customer